What are the configurations of water amusement facilities
Water rides configuration is a core part of the water park planning and design, reasonable arrangement of water rides, a water park is a successful project basic conditions, so that visitors do playxing, became a summer resort in summer, the water park is consistently profitable hardware Facilities and basic guarantees, therefore, the importance of water amusement facilities configuration is self-evident.
Water amusement facilities cover a wide range. For example, common water slides, water playing equipment, water villages, wave pools, circulation rivers, etc. are all water amusement facilities, and those bumper boats and inflatablewater park equipment also belong to water amusement facilities. In terms of scope, this article mainly talks about water amusement facilities using FRP as the material.
1. The water slide
Water slide water park has long been a protagonist equipment can be divided into large water slides and children's slides two categories, large water slide contest included rainbow slides, big horn slide, spiral grouptogether slides, water slides and other water park Equipment; children's slides include small horn slides, small cupola gyros slides, octopus slides, snake slides, etc.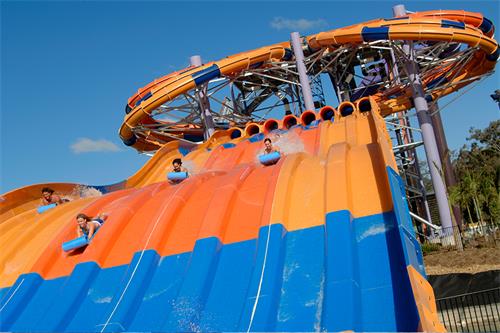 2. Water play equipment.
Water play equipment is also an important part of the water park. It is mainly divided into family and parent-child projects. It is decorated with various plants, flowers, and the latest animal cartoons and has a water spray function to increase the entertainment atmosphere and children have fun. Knowledge can also be increased in the process.
3. Water
Village Water Village, also known as Water House, is the most cumbersome project in water amusement facilities. There are several themes such as pirate theme and ocean theme. Very classic water park equipment, consisting of platforms, slides, buckets, and themes Related animal shapes and decorations.
4. Wave pools
Wave pools are generally places for leisure in water parks. They are generally equipped with beaches, stages, sun lounge chairs, etc., and there are usually snacks or shops on the side for tourists to enjoy. The so-called eating and drinking play, so the water park definitely not supporting the diet of the most attractive places is food, it is best to let visitors can taste different cuisines to meet food goods dream of tourists.
5.The spa equipment + Spa-inspired
 Spa is common in water parks, such as guangzhou chime-long water park will have a spa and sauna, and now we both care about health, have a good body, Jinshanyinshan not change. Hot spring equipment has increased significantly in major water parks in recent years, which can be opened all year round, making up for the shortcomings of outdoor normal temperature water parks that can only be operated in summer.
6. Other facilities
The planning of the water park should also include supporting facilities such as parking lot, reception, ticket office, storage room and so on.