What are the design features of water park equipment and water amusement facilities?
Water park equipment, water amusement equipment , or water park amusement equipment, contains many types, mainly in these categories: water slides, water playing equipment, artificial wave equipment, water house, water village, swimming pool, lazy river, giant Hongxia, hot spring spa, water treatment equipment, etc. Water park equipment requires long-term water park design updates based on customer needs. Guangzhou lanchao water park equipment co., ltd. will introduce to you, what are the main characteristics of water park equipment design?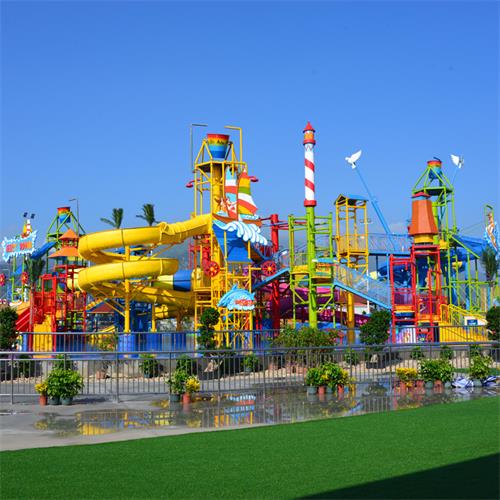 1. How can color
Water park equipment become popular? How to attract people? The first is good visual effects. For example: interactive products and equipment such as children's water houses, water villages or water play sketches, which children like to play, need to be matched with colorful colors to give people a sense of freshness and curiosity. The atmosphere of the entire water park is driven up, the atmosphere that a happy water park should have. Coupled with wonderful music, it makes people feel more happy.
2. Quality (Quality)
In addition to fun and beautiful water park amusement equipment, the most important thing is the quality of the water park equipment. Safe play is a guarantee for your own safety, and it is also an eternal topic. It is definitely to eliminate hidden safety hazards, which means that the quality of water park equipment must be guaranteed. And this depends on the quality of water park equipment Water park equipment manufacturers, therefore to examine before buying equipment waterpark located equipment manufacturers are particularly important.
3. Modelling
In this face-conscious society, "face value" is also very important. In addition to the color aspect of the water park equipment, the shape should also be highlighted in the design. Let me explain why you say that with children's water park equipment . Children are innocent, lively and curious, and will pay more attention to cartoon and plant products. The market is updated, and children's water playing equipment made in cartoon styles such as cartoons, TV series and movies will be very popular. The unique shape can not only highlight the theme of the water park. Children can play the small horn slide, and adults can play the big horn slide. The improved products for adults, such as the upgrade of the big horn slide into a tornado, are a representative product.
The value system that guangzhou lanchao water park equipment co., ltd. adheres to:
Core values: pragmatic, innovative, professional and win-win
Value relationship:
To customers: create commercial value-Guangzhou lanchao provides professional water amusement equipment to meet customer needs and promote project profits Increase the value of land and maximize the value of customers.
To employees: enhance self-worth-Guangzhou lanchao not only provides good benefits to employees, but also strives to help every employee create and enhance self-worth.
For tourists: create happy value-Guangzhou lanchao brings happy time to every tourist with safe, innovative and fun water amusement equipment.