2022 Guide To Start A Waterpark For Profit by Following 6 Steps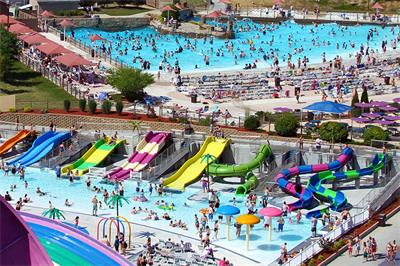 Amusement parks are a popular vacation destination for families all over the world. Few things are more exhilarating than experiencing the rides, laughing and screaming as you make your way to the bottom. Couple that with water, and you have a family friendly adventure for individuals of all ages.
Brief Introduction of Water Park
Water parks are making a splash. Amusement park owners and entrepreneurs are incorporating water parks into their businesses to increase profitability and consumer satisfaction. Included in the water park industry are amusement parks that offer water play areas, such as splash pads, waterslides, lazy rivers, water playgrounds and other swimming activities. Water parks can be located outdoors, indoors or both.
If you're interested in starting or expanding a water park or own an amusement park area, you probably have questions about how to build a water park, what a water park investment would cost and how you can make this new business profitable. We've compiled this guide to help you get started.
Water Parks Growing Profitability
The industry revenue for water parks has increased in the past five years, but what has contributed to this significant growth? Water park profit margin is the most concern  for all investers. While a strong performing theme park may deliver a 35 per cent operating profit margin on an annual basis, a strong waterpark can generate profits of 55 per cent or more.
Water park profitability increased due to falling unemployment rates, rising disposable incomes and an improving economy. Consumer spending has been on the rise, which has contributed to the growth of the water park industry.
Consumers are also traveling more, so this may also contribute to the growing profitability of water parks. Many water parks are considered destination locations, so consumers may be willing to travel from different parts of the country or world to visit. How far consumers are willing to travel impacts the profitability of these parks, and consumers' willingness to travel is affected by several factors, such as fuel prices, geopolitical tension and fear of disease or terrorism.
When the economy is doing well and employment rates are high, Americans have more disposable income to spend on activities like travel and entertainment. Even if geopolitical tension caused consumers to travel internationally less frequently, they would still likely travel domestically often, which bodes well for water parks located in the U.S.
One example of a highly successful water park is Typhoon Texas, which hit attendance capacity and season pass goals faster than anticipated. To increase their profitability, Typhoon Texas made sure to offer activities for all ages.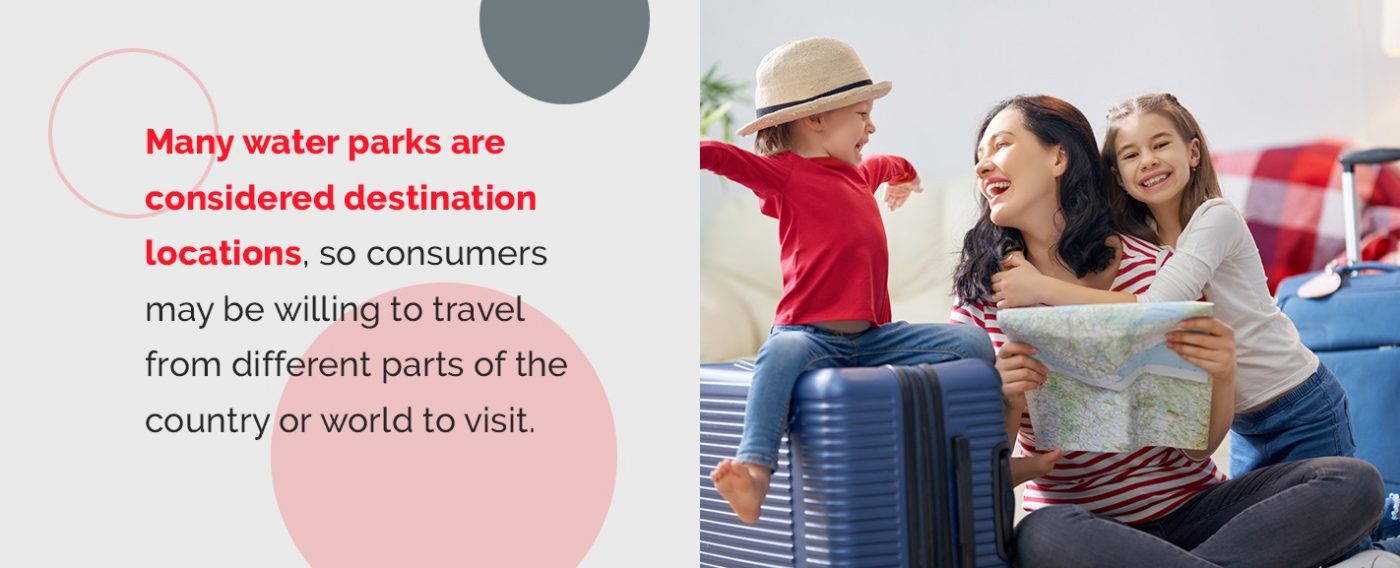 Many waterparks in America may start small, but entrepreneurs are quickly catching on to the potential for profit through the expansion of a water park. When a water park offers something for everyone and provides its visitors with an enjoyable experience, the park attracts visitors from every corner of the globe. As long as a park is maintained and managed well, there is good potential for growth and success.
So what are the ways water parks are profitable? Water parks make money by charging admission fees, but they also earn revenue through sales of food and beverages, souvenirs and merchandise. Parks may also charge fees for using additional facilities or attractions. By adding a water park to an existing theme park, you can also increase the profits of your theme park, especially during the summer.
Benefits of Adding a Water Park to an Existing Theme Park
When it comes to cost to build and maintain water park rides versus theme park rides, the costs for a water park are significantly less expensive than the costs for a theme park. A water park can also be built on a smaller plot of land. If you don't have enough acreage for an additional or expanded theme park, a water park can be an excellent, more affordable alternative.
When it comes to cost to build and maintain water park rides versus theme park rides, the costs for a water park are significantly less expensive than the costs for a theme park. A water park can also be built on a smaller plot of land. If you don't have enough acreage for an additional or expanded theme park, a water park can be an excellent, more affordable alternative.
Visitors to your theme park are drawn in by the promise of a visit with a beloved character or a ride on a record-setting roller coaster, but the inclusion of a water park can entice guests to extend their visit. While you may be able to convince visitors to stay longer with additional theme park rides, a water park can accomplish this much more cost-effectively. The addition of a water park may also help convince locals to buy an annual pass.
By adding a water park to your existing theme park, your guests tend to stay longer and spend more. With the costs for construction and maintenance so much lower than additional theme park attractions, a water park is a highly worthwhile investment for many theme park owners.
Open a waterpark by following these 6 steps:
You have found the perfect business idea, and now you are ready to take the next step. There is more to starting a business than just registering it with the state. We have put together this simple guide to starting your waterpark. These steps will ensure that your new business is well planned out, registered properly and legally compliant.
STEP 1: Plan your business
A clear plan is essential for success as an entrepreneur. It will help you map out the specifics of your business and discover some unknowns. A few important topics to consider are:
What are the startup and ongoing costs?
Who is your target market?
How much can you charge customers?
What will you name your business?
Luckily we have done a lot of this research for you.
STEP 2: Designing a Water Park
After you've decided to move forward with building a water park, you'll need to design it. To determine what you can include in your design, you need to address:
What your budget is
What operating costs will be
What you want to include in the park
How much land you have
You'll also want to define what a successful water park is to you. Is your definition of success simply a water park that generates a profit? Or does success mean a water park that earns enough revenue to cover its expenses and future additions or a water park that makes enough to help subsidize other facilities in your park? Your definition of a successful water park will impact the design of the park.
Water parks generally include three aquatic elements — rides, a capacity holder and a children's area.
A water park should have rides and attractions that appeal to different age groups. Though most guests want to take a trip down the waterslide, the thrilling attractions for teens won't be appropriate for young children or older adults who want to enjoy gentler attractions. You can include attractions that anyone can enjoy, but you should also include rides that target certain groups of visitors.
Attractions for infants and toddlers include:
Gentle spray and water features
Small, zero-depth pools
Tot slides
Attractions for young children include:
Waterslides
Water sprayground
Sand play
Large play structures
Water walks
Attractions for older children and teens include:
Large waterslides
Sand volleyball
Water walks
Open water
Attractions for young adults include:
Intense waterslides
Open water
Climbing wall
Drop slides
Sand volleyball
Attractions for adults include:
Open water
Lap lanes
Waterslides
Zero-depth pool
Spa
Sun deck
Attractions for older adults:
Lazy river
Spa
Lap lanes
Family-friendly waterslides
Sun deck
Rides that accommodate multiple people at once can keep families together, allowing parents to enjoy themselves while also keeping their children at their side.
A capacity holder is an area or attraction that holds many people. Though capacity holders may not make money, they're key to a water park's success. A wave pool and a leisure river are both examples of popular capacity holders. They function as the hub of the park, keeping families entertained and having fun without the need to wait in a line.
A children's area is another crucial element to a successful water park. To draw families to your park, you need to accommodate younger visitors. Some of the bigger thrill rides can be too overwhelming for young children, and many parents will want to keep their children with them while at the park. Incorporating large water play structures, children's pools and spraygrounds can ensure your younger guests can have as much fun as your other guests.
Aside from rides and attractions, you'll also need to design your park to include facilities and support spaces, such as concessions and restrooms. While the quality of your restrooms won't draw visitors in, they can ensure that your visitors aren't driven away. You'll want to place these spaces according to traffic flow to ensure they enhance your guests' overall experience in your park.
You should also consider what your plans are for expansion when you're designing your water park. Regardless of the number of rides you plan on having or the size of the water park, guests enjoy a new attraction being added from time to time. When you're designing your park, think about where you want to place your first expansion.
STEP 3: Select Proper manufacturer of Water Park Equipment
Having the proper water park equipment for bringing customers into the facility is essential. The value and quality of water park equipment can impact the success of your business. For quality equipment, what characteristics should you look for?
Strong and durable: Your equipment will see a lot of use, so it needs to be up to the task. High-quality equipment that is durable will also mean less maintenance, repairs and replacement, which will save you money.
Safe: Water park equipment should be designed from materials designed to minimize injuries to keep all visitors safe.
Professional Installation: Find a manufacturer that is qualified to install water park equipment.
STEP 4: Get business insurance
Just as with licenses and permits, your business needs insurance in order to operate safely and lawfully. Business Insurance protects your company's financial wellbeing in the event of a covered loss.
If your business will have employees, it's a good chance that your state will require you to carry Workers' Compensation Coverage.
STEP 5: Define your brand
Your brand is what your company stands for, as well as how your business is perceived by the public. A strong brand will help your business stand out from competitors.
As with any business "growing up" in these technological times, it's critical that you maintain an online presence. This is a great tool for keeping current and future customers informed of the latest news, exclusive deals, and special events. Ads in local and surrounding area newspapers, radio, and television are also a great way to get the park's name recognized in the community. If your goal is to attract tourists, develop relationships with travel agents and hotel management, as they're often the ones helping families plan their vacation. Additionally, most state welcome centers have an area dedicated to local attractions; leave pamphlets for visitors passing through. Be sure to list your park in the World Waterpark Association's Directory, which should help reach customers you might not normally come in contact with.
Every successful entrepreneur knows that word of mouth can be your best friend or your worst enemy. Work to establish a positive reputation for the park by offering a safe, clean, and fun retreat for your customers. If someone expresses disappointment, do everything in your power to turn their bad experience into a good one. This level of service ensures your customers will keep coming back and will, hopefully, bring all their friends.
STEP 6: Create your business website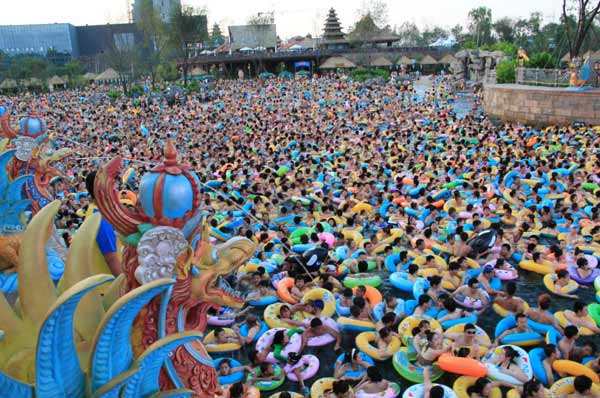 While the world is becoming ever more digital and virtual, family water play still has a refreshingly enduring appeal. This, combined with the exciting new rides and attractions that being developed each year, will serve to continue the industry well and drive more developments in the future.
The waterpark industry was negatively affected by the COVID-19 pandemic at an unprecedented level in 2020 with an attendance drop of 62% for the entire industry. The substantial revenue loss will be a setback for the industry for years to come as owners and investors of waterpark projects work to sustain their properties amid those losses. 2022 should see a definite improvement in terms of attendance and revenues over 2020, but we do not forecast a return to pre-pandemic levels as the vaccine rollout is not expected to be available to all until the fall of 2022. However, the waterpark industry is dynamic and resilient. Though the road to recovery will not be easy, operators are refocusing their marketing and operational strategies to adjust to the new normal going forward, setting the industry up for a robust recovery.
2022 will bring the opening of a number of new standalone waterparks and resorts with waterparks. Developers and consumers continue to be interested in new waterpark developments, and we expect to see a continued pipeline of new projects in the coming years.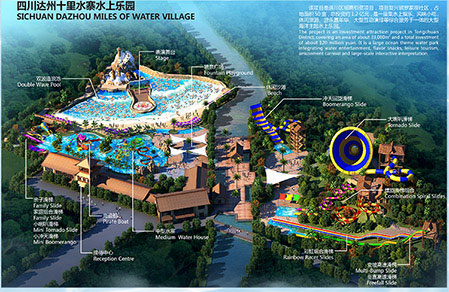 Lanchao Water Park Equipment Co.,Ltd has 10 years experience in manufacturing and installation in water park project industry and wins a lot of good reputation from plenty of successful projects. Scroll down to contact us to get a free design right now.