Why can the Shenzhen Qiushui Scenic Area Playground be the filming location for many dramas?
In recent years, many youth idol dramas have been particularly fond of shooting in amusement parks. The amusement park in qiushuishan scenic area, known as the "shenzhen little happy valley", often sees crews come to shoot. For example, song qian and ou hao's "I don't know What's In the Heart", jiang chao and mao xiaotong's "My robot Bboyfriend" all came to the amusement park for shooting.
Shenzhen qiushui scenic area is located in Nanling Village, longgang, "China's first village". There are more than 50 water parks, hongjiang qiushuishan cableway, ice kingdom, roller coaster, flying boat surfing, space shuttle, pirate ship, bumper cars, etc. in the amusement park. This kind of amusement equipment is full of laughter and laughter every day. Ferris wheel, roller coaster, carousel and other projects are especially favored by directors of youth dramas.
Ferris wheel
In beautiful fairy tales and romantic love stories, ferris wheels often appear. So, are the stories that occur on the ferris wheel always as gorgeous and beautiful as fairy tales and love? As the gondola rises slowly, passengers in the gondola can not only indulge in a bird's-eye view of the amusement park, but also enjoy the distant scenery, which is refreshing. Especially at night, under the colorful lights, it is more dazzling and magnificent.
roller coaster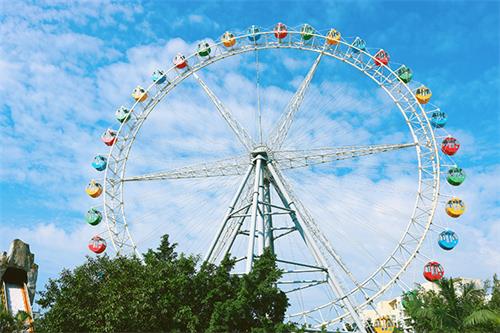 When the train is lifted to the highest end of the slope track, it immediately turns to free sliding. The huge potential energy makes the train roll up and down along the track, spiral shuttle, whizzing, and the maximum speed can reach 75 kilometers per hour. The ride is thrilling and thrilling!


Double deck luxury carousel
There are 30 sets of luxurious carousels, a total of two floors, a collection of European classical palace decorative arts, magnificent and outstanding. Riding on wooden horses or vans with realistic shapes and different looks, spinning and wandering in the light, shadow and music, you feel as if you are in a fairy tale garden of Eden and feel the unique dream and romance.