Water park slide-vortex slide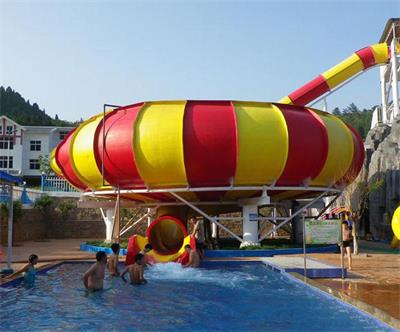 The water amusement park covers an area of ​​2,000 square meters and is mainly for adults and children to play together. Among them, the water park equipment we provide includes: small horn slides, large revolving slides and rainbow competition slides. Children's water parks are mainly water play products, such as rainbow doors, water spray mushrooms, water spray shells, cone-shaped buckets and kangaroo water spray products. The passenger flow of the park is skyrocketing every year, attracting adults and children.
Technical parameters of bowl slide equipment:
Diameter: 18m
Platform height : 18m Floor
area: 1500 square meters
Carrying capacity: 4 people
The vortex slide is one of the most exciting, thrilling and eye-catching projects in the water park. Four visitors can take a kayak and dive down from a high place at the same time. Under the action of centrifugal force and water, visitors will whirl in the pool at high speed. , and finally sucked into the water outlet in the middle of the big bowl, visitors will enjoy an unforgettable sliding experience, and the screaming will accompany the sliding.
Guangzhou lanchao water park equipment co., ltd. Was established in 2003 and is located in nansha new district, guangzhou city, guangdong province. It is a large-scale water entertainment facility enterprise integrating product development, production, sales, construction services and project planning and design. It is a professional manufacturer and supplier of complete sets of water amusement facilities. The main products produced and supplied are: swimming pool water treatment equipment and constant temperature equipment, water park equipment, large-scale water amusement facilities, water slides, artificial wave equipment, children's water playing equipment, hot spring facilities, spa equipment, fountain water scenery equipment, etc.
The establishment of guangzhou lanchao water park is based on the desire to provide the best quality and service. The production of the best quality products in the industry has always been our goal. At the same time, we have reduced the cost of product production through a mature management mechanism, and provided high-quality water amusement products at affordable prices, achieving high cost performance.
After years of development, the company has accumulated strong corporate strength. We insist on taking product quality as the center, relying on high-quality pre-sales service, affordable price, and perfect after-sales service. With our advanced equipment and technology, experienced professional and technical personnel, and skilled construction team, we have won the majority customer praise.