Atlantis is grandly opened. What are the water slides that are worth playing?
      The sanya atlantis resort has a grand opening, and its sanya water world adventure park is officially open to the public. visitors can enter the park 360 days a year . The park covers an area of 200,000 square meters and has a number of large water slides , providing visitors with a variety of completely different sliding experiences. This water world adventure park with an area of 200,000 square meters was unveiled in atlantis, sanya, china on April 28, 2018.
       One of the most thrilling water slides is the "super large water ring", which only the brave people dare to try. The slides total length of over 100 meters, descender points up to 80 meters, the skater will always be in tension and torsion twists and turns corners slip completely away. Another eye-catching slide is "torrent over mountain car", the slides using hydrodynamic injection technology, 4-seater raft can quickly glide firmly from the bottom to the top of the slide chute. This slide will become the most popular slide in the water world adventure park. The daily capacity of 1,000 people will also create an amazing performance for the park and become a must-play slide for tourists . The world's first hybrid behemoth bowl slides and big horn combination of the cyclone, expected passenger capacity of up to 720 people per hour, before the visitors will bring unprecedented extraordinary sensory experience.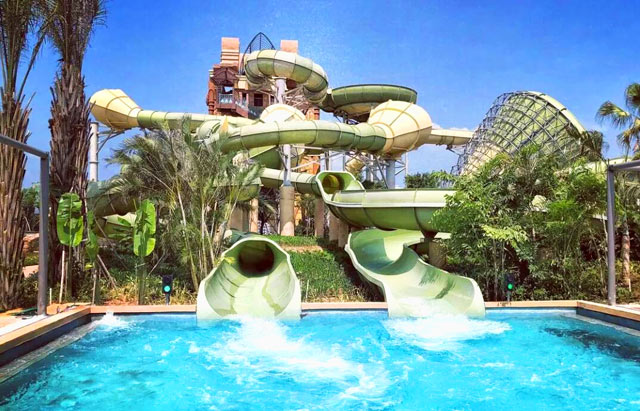 Sanya atlantis attract thousands of tourists not only thrills adult water projects, as well as for the little guests of the custom body Water Kingdom, which there are children of all ages playing with water slides. Children are curious, when they glide through the lovely fish, dilapidated wreck and find atlantis when atlantis the lost treasure, also increased the children to explore the mysteries of the ocean, you can make them smooth play for hours.
       In addition to the water slide that screams for thrills and the laughter of the water kingdom for parent-child interactions, tourists should also not miss a comfortable and romantic place "relaxation play area". Here has 450 meters of private beach, unique for its golden beaches, long coastline, dangerous waves anxious, cited have to play a lot of visitors to the coast, visitors can not only swim and play in dolphin Bay with friendly dolphins together, You can also go to the "lost space" water aquarium, showing a shock to the extreme for the visitors of the underwater world.