2018 Spring Festival holiday notice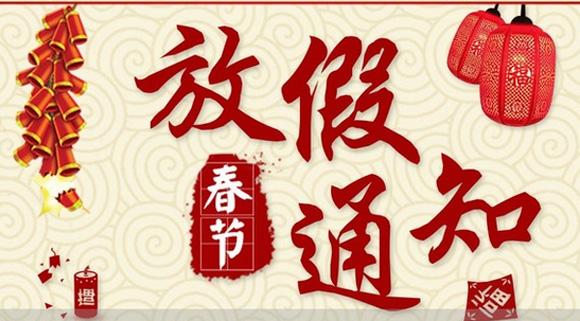 All departments of the company and all employees:
The 2018 spring festival is approaching. According to the spirit of the national spring festival notice and the actual situation of the company, the company's Spring Festival holiday time is hereby notified as follows:
2 Yue 10 days (the twelfth lunar month xxv) to 2 Yue 24- day (lunar January 9), total holiday 15 Tian 2 yue 25 working days (lunar january tenth).
Special note: please book the home and return tickets in advance according to your actual situation. If the individual employee is really necessary in 2 Yue 10 to leave the company before the date or special reasons 2 yue 25 days without work on time, do leave procedures must advance in order to arrange the production company. 2 yue 9 ri (zhouwu) after work employees will own belongings and locked it, take good care, proper hygiene carefully remove, to leave the company.
Attention to all new and old customers and suppliers: during the holiday, the time of raw material arrival and production and delivery will be pushed forward to after the holiday. If you have any customer inquiries during the holidays, you can call the general manager of lanchao : 13760781110 (Mr. Zeng).
I sincerely wish you all a happy and peaceful spring festival!
Guangzhou lanchao water park equipment co., ltd.
February 1, 2018