Water amusement equipment manufacturers: What are the things to pay attention to when going to the water park?
Looking forward to, looking forward to, guangzhou lanchao water park equipment co., ltd. Will organize all employees to go to changlong water park to experience the excitement of water slides and play various water amusement equipment such as water play sketches and water houses and villages . I believe that many of my friends have been to the water park. The summer vacation has passed. The water park in September and october should not be so crowded anymore. It is no longer as crowded as the water parks built by guangzhou lanchao water park. It's very crowded. Playing with wave-making equipment is like making dumplings. After this peak period, go to the water park. Time should be better allocated. The members of our lanchao's design department, promotion department, business department and foreign trade department all want to experience a series of water park equipment projects in chimelong Water Park. The following first introduces the downstream play strategy, and you can play in this order. Don't go back, hurry up and play more and more fun projects!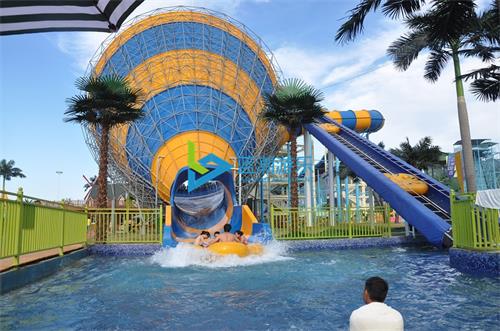 1 Giant beast bowl-2 Giant python-3 Juhong gorge-4 Wonderful parent-child water city-5 Lazy river drifting area-6 Centrifugal slide-7 Jet slide-8 Vertical limit-9 Hawaii water city-10 Super horn-11 Super wave pool-12 Big skateboard slide-13 Family fun slide-14 Speed race-15 Super wave pool (starry sky water party)
Today, what I want to tell you is what do you need to pay attention to when you go to the water park?
1. Do not go too deep with a children's water area, water park also has relatively deep water areas, so parents bring the child to the water park play must pay attention to look after the children, do not let the child go where the water depth, so as not to build into danger! Don't let your children go to play privately, so as not to get lost or encounter danger!
2. If you are a female friend, you must pay attention to wearing your swimsuit when playing on the water slide, because the impact of the water during the sliding process will make the shoulder straps not tied up and cause embarrassment!
3. If you are playing with a water gun in the water park, you must not point it in the eyes of others. If you don't pay attention, you may shoot water in the children's eyes, which will affect your eyesight.
4. It is best to wear swimsuits to play in the water, after all, swimsuits are orthodox. If you wear plain clothes to play, you can easily see through and cause embarrassment after seeing the water. On the other hand, you can't let go of bold play.
5. It is best not to play the projects that you think are dangerous. There are several projects in the water park that are challenging. If you feel that these projects are dangerous, it is best not to try to avoid accidents. !
6. Friends who like to take photos, you can buy a waterproof bag and put your phone in it, then you can take a lot of beautiful photos.
Although the water park is relatively safe, there are still many places that need to be paid attention to. Don't be careless! Guangzhou lanchao water park equipment co., ltd. has a special project planning and design department, and has its own production plant. It is a professional manufacturer of water park equipment, including water slides, water play sketches, water cottages, artificial wave equipment and other water park projects , the factory has a comprehensive office building, production workshop, product exhibition hall and staff canteen, and has an experienced construction team. For many years, the company has strictly implemented relevant domestic and foreign standards and regulations, established a scientific quality management system, and provided high-quality equipment and technical services for the project.