Six must-visit water parks in Beijing in summer
Where is the scorching sun fun and cool? Of course it is a water park! Beijing has many water entertainment places, and it can be said that each has its own characteristics. Here are six must-visit water parks in Beijing in summer. Water park equipment with rave reviews .
1. Water Cube Playground
  The Water Cube Waterpark is the largest and most advanced indoor theme water park in China. All the amusement equipment in the park is imported from world-class suppliers. Some of these equipment are the most popular equipment that has won internationally renowned awards. , And some exciting facilities are the first in the world to debut, as well as lively and cute little nutria to meet the children happily.
  Under the transparent bubble film of the Water Cube, the inner space of the park has been filled with "water" elements. In addition, all the slides and amusement equipment are made of translucent materials, as well as corals floating in the water, Jellyfish, seaweed, schools of fish and fantastic lights and music, when visitors are in them, it is as if they have come to a fantastic and dynamic underwater world.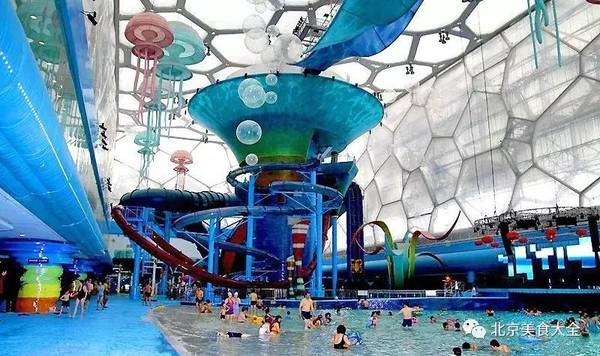 2. Crab Island City Sea View Water Park
      Xiedao City Seaview Water Park is the largest man-made beach in China, located in Xiedao Resort, Airport Side Road, Chaoyang District, Beijing. The park is concentrated with tropical seaside style, with a large artificial wave pool, a wide beach area, and a number of auxiliary entertainment and service facilities. It is an excellent place for everyone to relax in summer and enjoy the sea view nearby.
  The elevated circular water slide with a drop of nearly 12 meters is winding and thrilling. There are two fish-catching ponds for adults and children in the park, colorful small houses, swings and slides of different shapes, creating a fairy tale world in the water. Next to the surfing pool in the water park, there is a barbecue area where you can enjoy the delicious food directly from the water. There are skewers for a few dollars, as well as lobsters of about 12 cm . The water bar faces the sea and is Mediterranean style. In addition, there are also a casual beer square, comfortable tables and chairs, parasols, a variety of refreshing drinks, and performances by seascape bands.
  Among the urban seascape water parks, the most popular is the artificial wave pool, which is said to be the largest outdoor artificial wave pool in Beijing. On weekdays, 12 wave-making machines make waves, and at a glance, the sea is rough and the waves hit the shore. Waves rise above the pool, creating a realistic feeling of the sea. The simulated big beach, the sand is transported from Hainan. There are 4 elevated water slides , two 9-meter straight slides, and the curved slides are 13 meters and 15 meters respectively. This area is also a playground for children.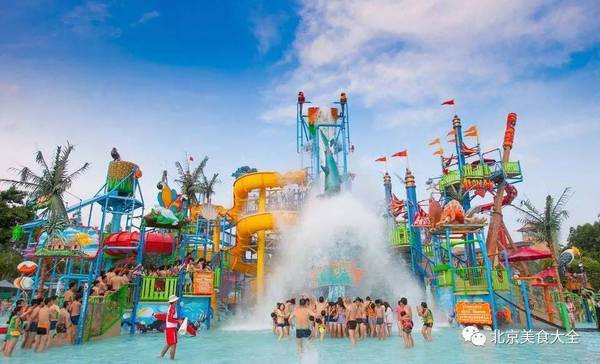 3. Happy Water Cube
  Beijing Happy Water Cube covers an area of ​​500 acres. It is currently the largest Chinese water park in Beijing, with advanced amusement facilities and the most equipment. Note paradise very heavy water-saving environmental protection, the whole garden world's most advanced application diatomite circulating water treatment system to ensure the health and safety of tourists in a hundred percent the same time, through advanced wastewater purification cycle to and rain water collection and treatment for the park Green watering.
  There are many amusement projects in the park, suitable for tourists of all ages. There are tornadoes, magic whirlpools, dark whirlpools, hurricane walls, skateboard surfing, sharp peaks, crazy tsunamis, etc. suitable for young people to play; projects suitable for children: Happy Hour, Finding Nemo, rafting pool, magic water castle, crazy tsunami, etc. There are also dream rafting, SPA river, bubble pool, SPA oasis, real sand beach and so on for the elderly . It can be said that the design is very careful.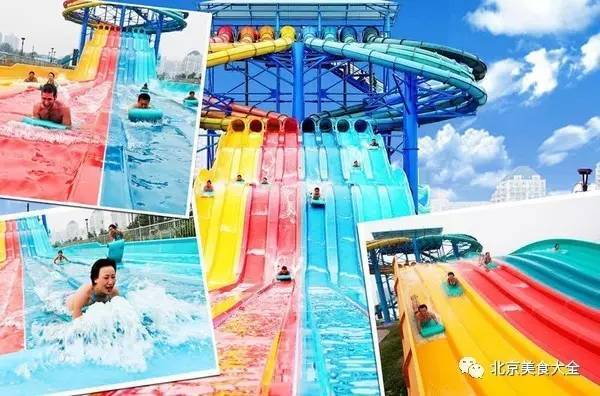 4. Morui Water World
  inherits the wonderful idea of ​​northern Hawaii. It is the richest indoor water park in Beijing built by Tulip Hot Spring Resort. It covers an area of ​​35,000 square meters. It is rich, fashionable, dynamic and thrilling, allowing you to enjoy the water throughout the year Fun carnival!
  There are 56 sports in the parent-child zone on the first floor, allowing you and your family to fully understand the character of water, experience the closeness of water, the clarity of water, the unrestrained water, and the tolerance of water; 4 types of saunas and 21 designed in combination with traditional Chinese medicine sPA spa pool kind of function alternately experience will make your body get the full range of scientific care; and most unusual water curtain movie, the highest domestic room within the water slides, immersive simulation of ocean surf and thrilling whirlpool, River rafting adventure, experience the weightlessness of pendulum wave slide, cartoon smart children's splash pool and children's paddling City Fort, relieve fatigue stone bath, limited space, unlimited enjoyment.
  The second floor is a leisure area, which is equipped with a female guest sauna, Yujia private kitchen Chinese restaurant, 4D movie hall, gymnasium, children's activity room, electronic games, VIP lounge, ancient tea room, beauty salon, Tibetan imperial fire therapy, etc. Yujia Private Kitchen Chinese Restaurant gathers famous delicacies from all over the world, and a variety of different styles of dishes will surely make you feast.
  The three-story sports and fitness area is equipped with sky tennis courts, badminton, table tennis, sand arcball, shooting, archery, rock climbing, etc., as well as the deep blue nightclub and the sound of Morui KTV.
  Morui Water World's superior geographical location, comprehensive services, and free living space will be your best choice for vacation and leisure!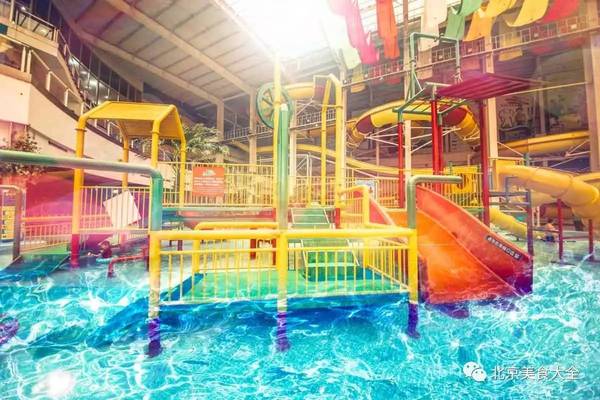 5. Youth Lake Water Park
  Qingnian Lake Water Park is one of the oldest water parks in Beijing, and it carries the beautiful memories of many people in their childhood. After Taoranting Park and Gongti's water park were closed one after another , the water world of Qingnianhu Park became the only open-air bathing place in the third ring road. Select the youth to experience the lake, in addition to the pursuit of that period "is not afraid of tanning" years, we are looking forward to obtain a lot more surprises.
  The area of ​​Qingnian Lake Park is not large. It is located in a prosperous area on the edge of the Second Ring Road. It is surrounded by residential areas and has the intimacy of a street park. Into the park, I saw old child in green shade under a walk around the play, life taste blowing. In the summer, the most popular non-water world is none other than the water world. The area of ​​the water park is small, divided into two parts: adult pool and children's pool, the entertainment area is connected to the adult pool. There is a children's playground next door, with trampolines, electric cars and other small amusement projects, each charging 5 to 10 yuan, after playing in the water, many children "lai" here reluctant to leave. In order to fully guarantee the safety of visitors to the water world and the quality of games, the Youth Lake Park Water World also launched night swimming. "Water World" has extended its opening hours to 21 o'clock in the evening, and a swim in the night can wash away the heat of the day. Some workers fear the sun and tanning beauty-conscious women are busy during the day and work would be more willing arbitrarily selected "night swimming."
  Conveniently located, it is the only water park in Beijing's third ring road. It is suitable for people who are purely to cool off the heat. And affordable snacks close at hand, while there are several small water world food stalls, ready supply of lamb skewers, dan dan noodles, sausage and other snacks, economical and convenient. In addition, you can take a solar hot bath after playing , but it must be a sunny day or when there are not too many people . The water world will send 10 lifeguards to patrol every day, and will remind you when someone does dangerous actions. There are also ambulances available at all times.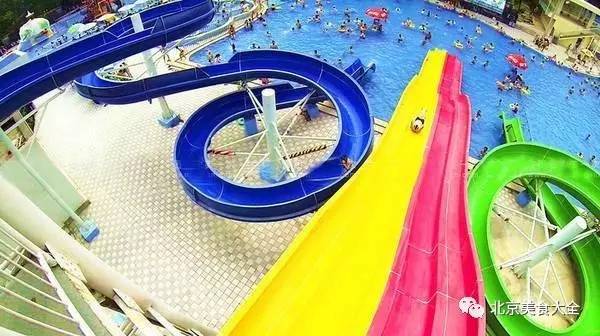 6. Wendu Water City Water Space
  The stadium contains standard indoor competition swimming pool, artificial wave, skateboard surfing, space basin, competitive speed skating, rafting river, interactive water house, beach, children's paddling pool, family interactive area, dining area, semi-underground water view coffee house, commodity department , Leisure area, VIP room, etc. In addition, the lazy river has an indoor part and an outdoor part. They are connected to each other. Together with the outdoor swimming pool and 12 hot spring pools, the indoor and outdoor spaces blend with each other and serve as borrowings, making this large water space mainly for families, teenagers and children rich in content. ,Structured. It is through the glass attached to glass corridor to the spa and health center mall the second floor cafeteria.